Rev. Israel Mago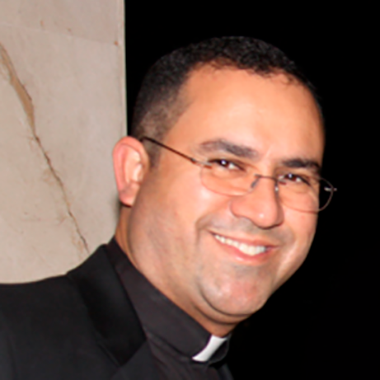 Father Israel Eduardo Mago was born in Caracas, Venezuela on March 25th, 1970 to Margarita Gonzalez and Israel Mago. He is the youngest of two children. His sister, who is two years older than him, is an attorney. His mother is retired and his father is still working.
1990-2000
In 1994, he graduated with a degree in Marketing and worked in the area of Customer Service and Sales. Before entering the seminary, he worked for several companies, including American Express, BellSouth and Hilton Hotels.
He was raised in Caracas until 1994 when he moved to the Island of Margarita, also in Venezuela. There he started attending a prayer group offered by the parish of St. Nicolas of Beri. His vocation began to grow and he felt the calling to priesthood.
2000-2010
Father Israel came to the United States in January of 2000. He spent two years as a pre-theologian at St. John Vianney College Seminary. He completed his theological studies and obtained his Masters in Divinity from St. Vincent de Paul Regional Seminary. Father Israel was ordained Deacon in 2006 and was assigned to serve as transitional Deacon in Our Lady of Guadalupe Parish in Doral Florida.
His other pastoral assignments include: San Isidro Parish in Broward County, St. Andrews Parish in Coral Springs, St. Elizabeth of Hungary Parish in Pompano Beach, St. Mark Catholic School in Boynton Beach, and Corpus Christi Parish in Miami.
His Excellency John Clement Favarola D.D., ordained him Priest on May 12th, 2007. His first assignment as a Catholic priest was to serve as Parochial Vicar at St. Agnes Catholic Church in Key Biscayne Florida.
2010-Nowadays
On June 21st, 2010, Feast day of St. Aloysius Gonzaga, the patron of all Christian youth, Father Israel Mago was appointed Parish administrator of Our Lady of Guadalupe in Doral, Florida.